We make digital interactions natural, tangible and FUN !
Welcome to OoBI
OoBI is an acronym for Out of Box Interactions. The idea of OoBI is seeded in the fact that a layman is still an alien to computing systems and data therein and as a human we easily consume and remember tangible information that can be experienced in real physical environment.
Recent update
OoBI joins hands with PropTiger and Makaan as it's Innovation & Design Center with an aim to provide a User friendly Technology solutions which help home buyers visualize their Dream Homes and provide developers variety of New Media marketing solutions. This will enable OoBI to reach all developers of country with a similar aim to help home buyers to understand their Dream Home and Enable Real Estate Builder community of India with Technology and Enrich its true potential.
realiT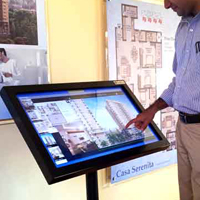 realiT is our latest product. realiT is a new age customer engagement solutions specially designed and developed for real estate developers. More details
Follow us