<![if !vml]>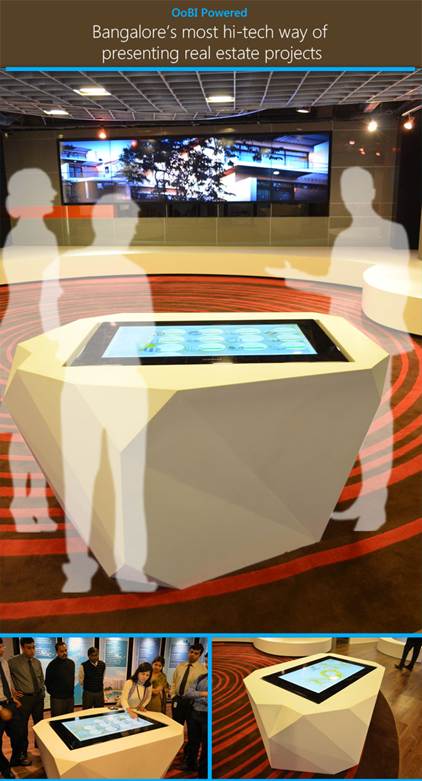 <![endif]>
@ Brigade Experience Center - World Trade Center, Bangalore
Brigade Group, one of the top real estate developer of India recently came up with an impressive Experience Center to showcase itís realty projects. OoBI provided itís product OoBI-RealiT and software services to enable present real estate projects in an immersive way with help of large multi-touch surface table in addition to interactive video wall to give LIVE Size & WOW! Experience to their clients.
We are thankful to Mr. Viswa Prathap Desu (VP - Marketing & Sales), Ms. Vyoma P. (DGM Strategy Marketing) and Ms. Aishwarya (Manager Marketing) from Brigade Enterprises Limited for showing trust in team OoBI.
Click Here to know more about our latest and interesting offerings.
Please contact atish@oobi.in or call +91-9739 425 439 to know more about our Wow! packed solutions.
<![if !vml]>

<![endif]>
Feeback right from our client: Ms. Vyoma Pandit (DGM Strategy Marketing), Brigade Enterprises Ltd.
"It has been a pleasure working with the team from OoBI. They bring to the table a great mix of creativity, timely execution and professionalism. They have a good understanding of the needs of the real estate industry and have translated our requirements to applications that not just serve the operational purpose but also generate considerable interest from customers. What sets OOBI applications apart many other offerings in real estate technology, is that these are well-aligned to the needs of the client and their end consumer, easy-to-use, flexible, cost-effective and come with prompt after-sales support.
We would love to continue working with OOBI and wish them all the best in their future endeavors!"
Click here to view more gallery images of our deployment.
Regards,
Atish Patel
OoBI Media Solutions Pvt. Ltd.
www.OoBI.in l +91-9739 425 439