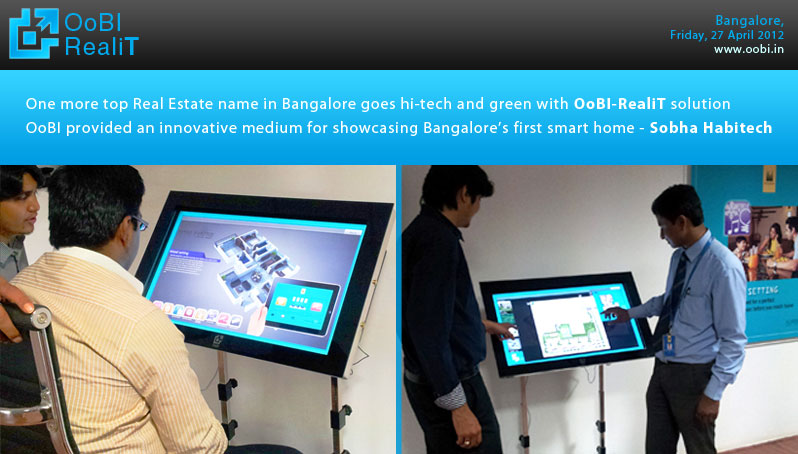 About Project
Sobha Developers recently launched their latest project, Sobha Habitech which happens to be Bangalore's first Smart Home housing. They have included lot of features in the smart home. Explaining these features to end customers was a difficult task using conventional medium of brochures.
As such Sobha Developers are always receptive of innovative ideas, OoBI provided an interactive multi-touch solution for explaining the smart home features. OoBI worked closely with Marketing team who guided us through out the project to come up with an exciting and immersive walk-through of Smart Home feature at Habitech
Few words of appreciation which we received from Sales team and visiting customers:
Manager Sales: "Ya! This is a great device. My client really liked it. It reaffirms Sobha as the leader in all respects. I am very positive now after this experience at the site. I am looking forward to closing this sale pretty early. Thanks to Sobha Marketing and OoBI."
Mr. Vivek Jaiswal (VP - Marketing): "It is a good and one more addition to our technological ramp-ups in Sobha marketing. These young entrepreneurs approached us few months back with this instrument. After some diligent deliberations by our marketing team and painstaking efforts of these young IITians, the multi-touch screen is finally ready. There will be even more features added into it and slightly advanced and sleek versions will be placed in future. I am sure customers will have even better experience at our site offices."
Team OoBI is thankful to marketing team of Sobha for showing trust and guiding us to make it success.
One of the most important things that we at OoBI always strive for is to bring smile on people's face while using our solutions. And this project has just proven our efforts :-)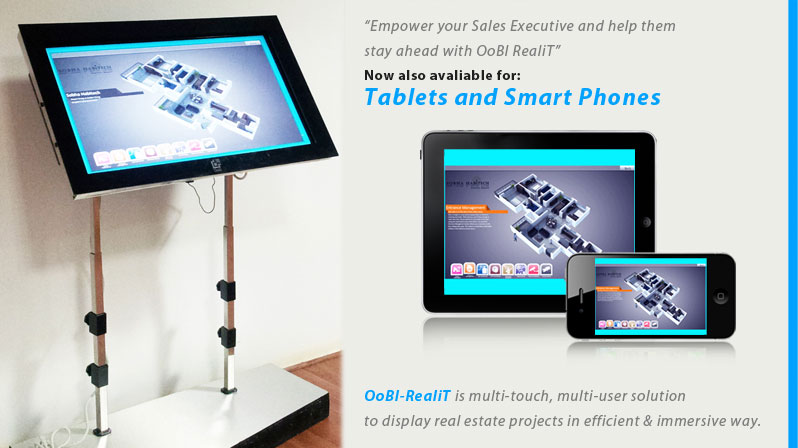 We are continuously improving and adding new set of features every month based on market research.
for Demo:
Call us: 09739 425 439 or Contact: info@oobi.in
About OoBI:
OoBI - Out of Box Interactions is all about making digital interactions natural, tangible and FUN.
Its a brainchild of team of IIT alumnus, who want to revolutionize the way people interact with computers
Know more about us and things we do at www.OoBI.in
Disclaimer: All images and textual content are copyright of OoBI Media Solutions Pvt. Ltd. Any copy/recreation of the content without permission of OoBI authorities is illegal. The content can be distributed as is. Any views and comments expressed are solely personal and doesn't express views of OoBI.