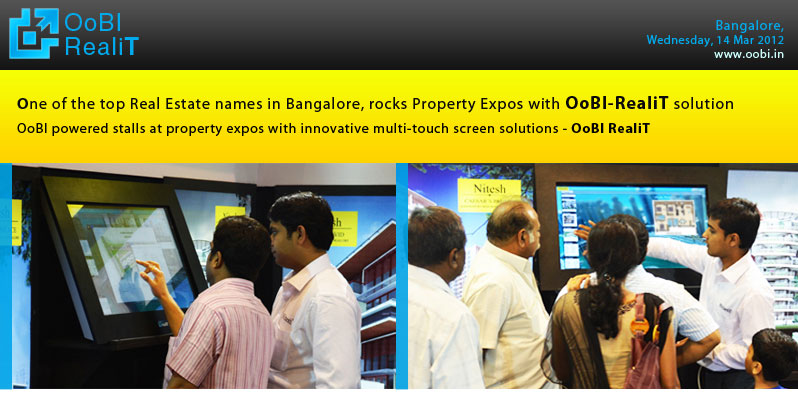 Some of the Experiences & Testimonials shared by visitors and sales teams of our clients:
"OoBI - RealiT allowed to showcase our project details like masterplans and walkthrough
in an interactive way on crystal clear display, that is way better than the brochures"
"With all the projects present just a touch away OoBI - RealiT allowed to present
our 9 projects in a hassle free way to our customers"
"We have gone green, by using on the spot email feature of OoBI - RealiT. It has allowed
customers to get it directly on their computer and also cut down our print costs and become eco-friendly.
This strengthens our values of being aware of nature"
"Our sales team achieved great efficiency and trust from customers by attending different customers and
showing them the project details simultaneously. This would have not been possible with brochure
which allows serving only one customer at a time."
"This will be really helpful at projects site too, to help clients give interactive & virtual tour like feel."
"OoBI - RealiT gave us an edge in showcasing our projects with a style and technological edge.
It depicted our belief in technology."
OoBI is thankful to sales, marketing team and visitors for appreciation and trust shown in us.
We are continuously improving and adding new set of features every month based on market research.
for Demo:
Call us: 09739 425 439 or Contact: info@oobi.in
About OoBI:
OoBI - Out of Box Interactions is all about making digital interactions natural, tangible and FUN.
Its a brainchild of team of IIT alumnus, who want to revolutionize the way people interact with computers
Know more about us and things we do at www.OoBI.in

Disclaimer: All images and textual content are copyright of OoBI Media Solutions Pvt. Ltd. Any copy/recreation of the content without permission of OoBI authorities is illegal. The content can be distributed as is. Any views and comments expressed are solely personal and doesn't express views of OoBI.